Meeting held in response to VP's "illegal alien" usage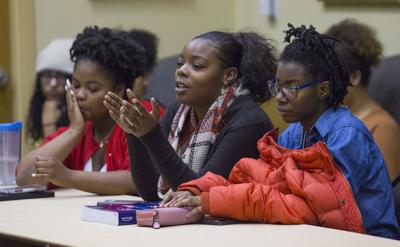 Students gathered to share their reactions to the Facebook post made by the Associated Student Government vice president that used the term "illegal alien," expressing their feelings of hurt, concern, lack of representation and a call for impeachment. There was no action taken on the incident during the meeting. 
The post, which endorsed Kris Kobach for governor in yesterday's election, said that Kobach would "put Kansans first, not illegal aliens."
It was initially a public post, made on Michaela Todd's, ASG vice president and senior communication major, personal Facebook account.
Todd's post was first edited to remove the phrase "illegal aliens," but she later deleted the post. Her Facebook account is now private.
Todd attended the meeting and apologized for using the term.
"I am sincerely sorry for how what I posted affected you guys.  That was never my intention...I was simply trying to reiterate what Kris Kobach's platform was," Todd said. "There was language in it that I did not realize would have (the) negative connotations that it did. It was never my intention to use anything like that that would make you guys think that I do not support any one of you."
Todd cried and apologized numerous times for the usage of the term during the meeting.
"You're supposed to represent us and you didn't and you failed," said Tiffany Sanders, junior elementary education major. "No more fake tears. I don't buy it. I'm so sorry but I don't buy it. You need to be honest and you need to apologize to the community...It is everywhere. You have to take responsibility for it."
Statements from members of Hispanic American Leadership Organization were read aloud by Taylor Lee, Black Student Union president and senior sociology major. 
The statements were about how the term "illegal aliens" dehumanizes and otherizes people, how it takes away from an inclusive environment and how her position of power affects others. 
Lee also said she felt action needs to be taken, in order to clear the "air of uncomfortableness" that the incident caused.
"Personally, I think impeachment," Lee said. "That's just me on the matter." 
Students in attendance also voiced concern about the nature of Todd's apology, saying that they did not believe that she had "no idea" about the negative connotations behind the term. 
"As somebody who identifies as Latino, I feel a lot of anger, because I've seen the way that that term has caused a lot of profiling to the Hispanic and Latinx community," said Naomi Martinez, freshman political science major and HALO member. "I find it very hard to believe that you didn't know that term was derogatory. I think that you just used it and felt that it was okay to use that term."
There were also concerns raised about whether the post indicated that Todd represented only a certain segment of the ESU student body, rather than all the students. 
"I want you guys to know that I am fully committed to representing everybody, not just people of certain groups," Todd said. "I'm here for everybody."
Fully representing an entire student body is difficult, but even more so when someone doesn't have any understanding of a community they serve, according to Kayla Gilmore, senior political science major. 
"That statement reflected a clear lack of understanding of a group of people," Gilmore said. "Politics are a reflection of who you are. This isn't about support for a certain candidate, but the candidate you supported utilized language that includes a slur. Seeing you post that without any type of editing on your part tells me that you looked at it and you were like 'This is okay.'"
Todd apologized to the group mulitple times.
"To those of you who expressed how that made you feel, I am so sorry," Todd said. "I do not want you to feel that way on this campus. I know it's not a right excuse, but I am human and I make mistakes. Again, this is something that I'm going to learn from and I'm going to grow from. I'm grateful for this opportunity to be here and to talk with you guys and have this dialogue."
No action was taken during the meeting as it intended to allow students to have an open, civil dialogue about the incident, according to Rachel Kohman, senior director of Center for Student Involvment.
The incident will be addressed again at the next Diversity and Inclusion Committee meeting,  as well as the course of action.. The meeting is 5 p.m. next Wednesday.