Meters to go
Goodwin pushes himself to the finish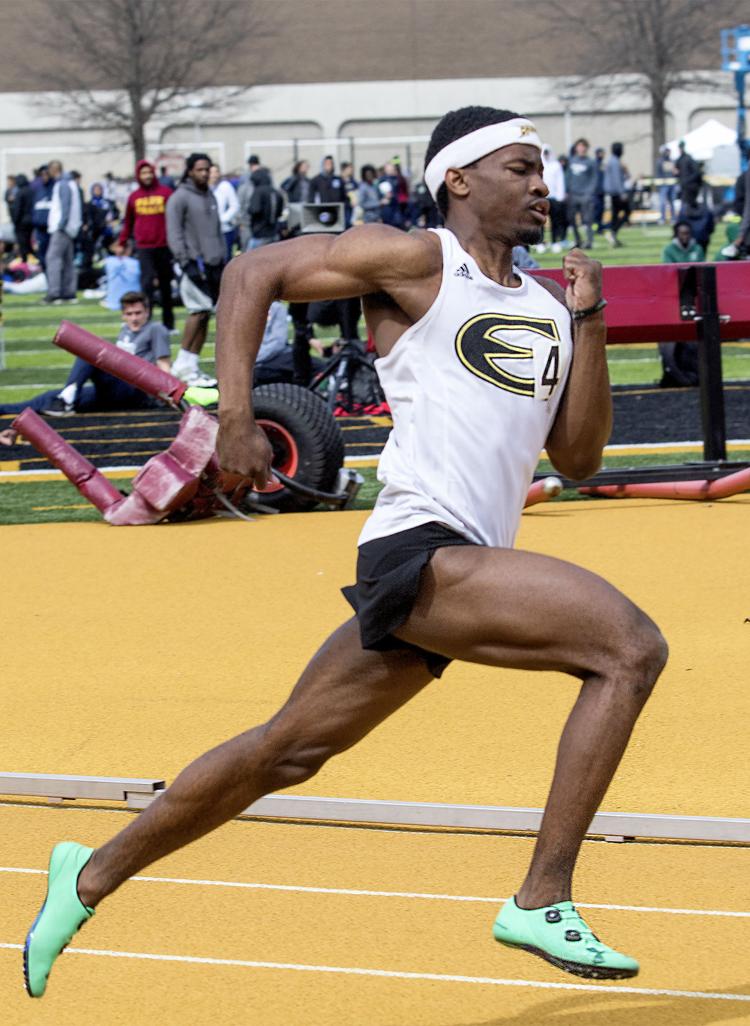 Taysean Goodwin, junior physics major, chose Emporia State based on a television commercial while watching cartoons, and he feels that his choice in schools has led to success in all areas of his life.
"A few hours after I came home from my visit (at ESU), I laid in my bed and I asked God what he wanted me to do," Goodwin said. "I thought about all the options I was given. I turned on the T.V. to watch SpongeBob and an ESU commercial came on that I never saw before. To this day I've never seen the commercial again and that's how I knew this school was for me." 
As an eight-time All-American in track, Goodwin has become a role model for many of his teammates, and he has worked to become a leader on the team. 
"I can be the type of teammate that is quiet, but I can also be the type of teammate that will get in someone's face when they are bringing the whole team down," Goodwin said. "If I'm working hard, (I want my team to) join me."
Goodwin's personal best in the 400-meter dash is 46.83 seconds, according to esuhornets.com. He has a personal best of 21.35 seconds in the 200-meter dash.
Senior sprinter Duke Tibbs has watched Goodwin grow during his time at ESU, and Tibbs views Goodwin as a brother, rather than just a teammate. 
"I remember hosting Taysean on his recruiting visit, and I knew he was a special talent with a good head on his shoulders," Tibbs said. 
As a friend and a teammate, sophomore Jazmin Williams also spoke about Taysean's character on the track and acknowledged that Goodwin is an unelected team captain for ESU.
"He pushes the team to go harder; he is passionate about the team," Williams said. "[Taysean] really wants everyone to succeed."
From the very beginning of Goodwin's track career during his junior year of high school, he has had a hunger to win, as just a second place finish is not a complete success in his eyes. 
"In high school, my first meet ever was at the University at Central Missouri," Goodwin said. "I had never run the 400-meter dash before, and I ended up running a 56, which isn't that great." 
Over the years, Goodwin has worked to perfect his craft of running the 400-meter dash, he said.  
"Even in high school, all my events revolved around me running the four (hundred meter dash)," Goodwin said. "I told my coach I really liked that race, and I guess it just liked me a little bit." 
During his time at Emporia, Goodwin said he has developed a trusting relationship and bond with head coach, Stephen Blocker, as he has grown as an athlete with increasing achievements.
"Coach Blocker is like a dad to me; he will do anything and everything for me and I feel that I can come talk to him about anything I have going on," Goodwin said. "He takes my opinions into consideration, and I trust him with everything because he is the one who got me to where I want to be every year, which was on the podium."
Goodwin's competitiveness and desire to win has resonated with him throughout the athlete's collegiate career, Blocker said. 
"I think Taysean is probably the most competitive kid I have ever coached," Blocker said. "He is pissed off when he doesn't win first place, and sometimes, I have to tell him 'Hey man, this is college. You don't have to win every single race.'" 
Goodwin said that right now, he is working on learning how to run by himself and not focus on the other runners in the race. 
"All you gotta do is see what you want, and go get it," Goodwin said.